MP4 Video Files: Everything You Need to Know [2023]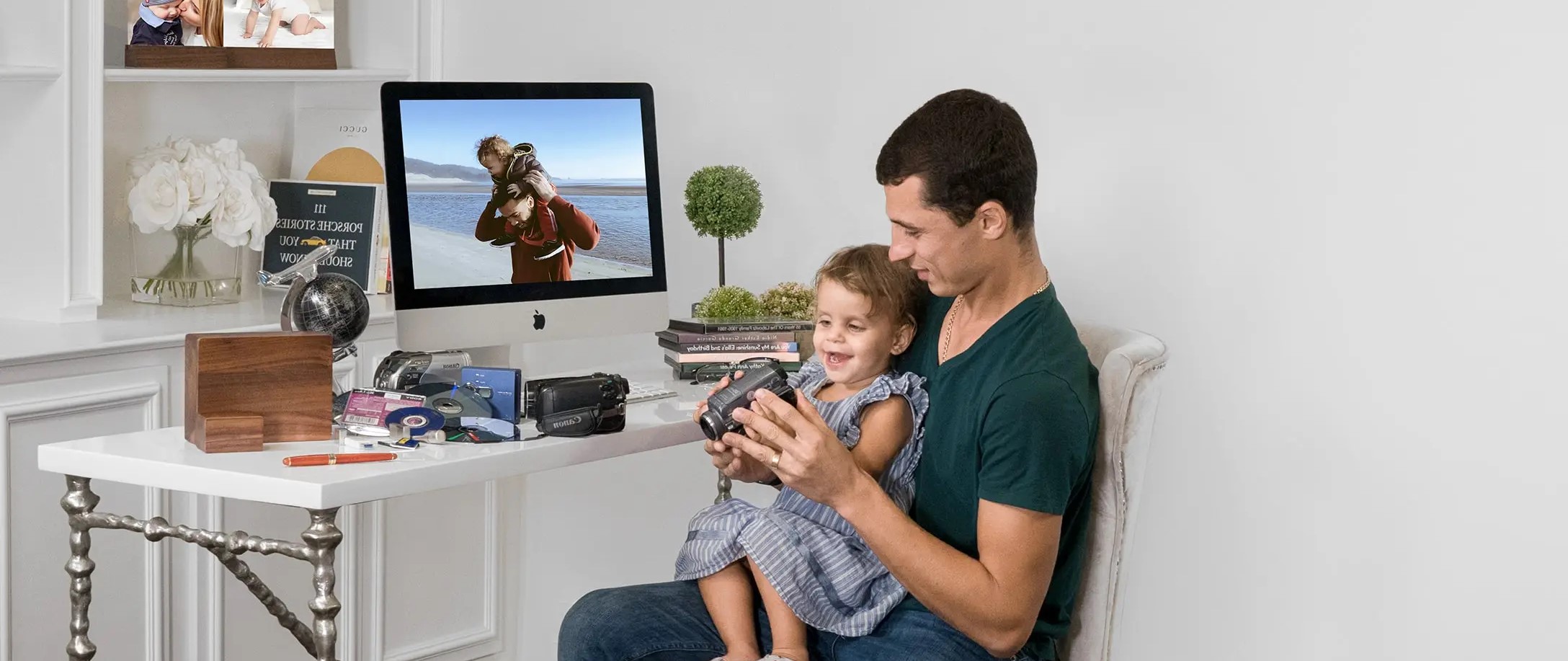 At Forever Studios, we've dealt with all sorts of video file formats, and no doubt MP4 files take the crown as the top favorite among our clients. The reason? Well, it's super versatile! You can watch it on almost any device with a screen, and it plays nice with loads of software out there. Today, we're gonna spill the beans and tell you all you need to know about MP4 files - how to create them, open them, protect and preserve them and much more. Let's dive in!
What is an MP4 File?
An MP4 file (also known as MPEG-4 Video file), is a compressed format that can store various types of media, including video, images, audio, and subtitles. It's like a container that holds all the stuff you see and hear in a video.
A great thing about MP4 files is that they work on lots of different devices, like smartphones, tablets, and smart TVs. So you can watch your favorite videos anywhere, anytime! And if you want to add subtitles or chapters to your video, you can do that too with MP4 files. They have extra features that make watching videos even more fun and enjoyable.
MP4 files typically use a special method called "H.264 video compression" to make the file sizes smaller without losing much quality. This means you can easily share and watch videos online without using too much data or taking up too much space on your device.
MP4 format works well for many multimedia applications, including online videos, movies, TV shows, music videos, and personal recordings.
How to Create MP4 Files
At Forever Studios, we assist our customers daily in converting their tapes to MP4 files. Now, we'll guide you through the easiest process to achieve the best results:

1.Choose Your Footage: First, gather the video clips or images you want to include in your MP4 video. This could be footage from a camera, smartphone, or even pictures you'd like to turn into a slideshow.
2. Video Editing Software: Use video editing software to import, arrange, and edit the video clips. Some popular choices include:
Free Options: Shotcut, DaVinci Resolve (Free Version), HitFilm Express, OpenShot.
Paid Options: Adobe Premiere Pro, Final Cut Pro (for Mac- more advanced editing option).
3. Import Footage: Launch your chosen video editing software and import the video footage you recorded or gathered. You can typically do this by dragging and dropping files into the software's media library or import area.
4. Add Transitions, Effects, and Audio: Enhance your video by adding transitions between clips, special effects, and background music or audio narration.
5. Export as MP4: Go to the export or render settings. Choose the MP4 format, and set the desired video quality and resolution settings. Click the export or render button to save the video as an MP4 file.
Opening MP4 Format
The process of opening MP4 files is quite similar whether you are using Windows or macOS. First, locate the MP4 file you want to open on your computer. Then, simply double-click the MP4 file, and in most cases, it will automatically open using the default media player. On Windows, the default media player is usually Windows Media Player, while on macOS, it is QuickTime Player.
If the file doesn't open or you prefer using another media player, you can simply download the free software VLC media player, follow the provided instructions to associate the program with the .mp4 file extension, and easily open and play your files.
Choosing the right Video Codecs for MP4 files
Choosing the right video codec is crucial because it directly affects the quality and accessibility of your MP4 video. When you choose the best codec for your specific needs, it ensures that your video looks clear, sharp, and visually appealing.
Moreover, the right codec helps optimize the file size of your MP4 video. It means that your video will take up less storage space while maintaining excellent quality. This is particularly important when sharing videos online or storing them on devices with limited space.
Another significant aspect is compatibility. When you pick a widely supported codec, your MP4 video can be easily played on various devices and platforms.
At Forever studios, we recently had the opportunity to work with a small business owner looking to create impactful promotional videos for their brand. Our experienced team of experts carefully analyzed various video codecs available, including H.264, H.265 (HEVC), VP9, and AV1.



After a detailed evaluation, we selected H.264 for their project. One of the primary factors that led us to choose H.264 was its broad compatibility across various devices and platforms. Since the client intended to share the videos online for promotional purposes, smooth streaming was crucial. We knew that H.264's compression efficiency guarantees seamless playback even on slower internet connections.
Moreover, H.264 allowed us to deliver top-notch video quality without the need for expensive server infrastructure for hosting and streaming.
The Impact of Compression on the Quality of MP4 Files
The impact of video compression on quality is crucial because it directly affects how your MP4 video looks and performs. When you compress a video, you reduce its file size to make it easier to store and share. However, excessive compression can lead to a loss of video quality, resulting in blurry or pixelated images; hence, It's essential to strike the right balance.
At Forever Studios, our team utilizes specialized video compression techniques tailored to MP4 files, optimizing the quality of our clients' footage. As we offer Forever Studios Cloud, preserving your files became a priority, and we diligently worked to find the best compression method that maintains the high quality our clients rely on. Through careful adjustment of codec settings, including GOP structure and motion estimation, we ensure that the videos retain their captivating visuals and preserve every precious detail.
If you require a straightforward compression, you can depend on various online compression tools. Just search for an online compression tool that supports MP4 video files and choose the one that suits your needs.
How to Protect and Preserve MP4 Files
To safeguard your cherished memories, we recommend making regular backups on both external drives and secure cloud storage, ensuring your files remain safe in multiple places. Trustworthy storage devices are essential, and taking care of your devices shields them from physical damage and malware threats.
For seamless organization and quick access, we advise neatly arranging your files in clear, labeled folders, allowing you to revisit your cherished moments with ease. To maintain the exceptional video quality, it's best to minimize conversions whenever possible. Additionally, exploring cloud backup options adds an extra layer of protection and allows you to access your files from anywhere, at any time.
Recently, at Forever Studios, the Johnson family entrusted us with preserving their cherished MP4 files. They experienced a loss of their old hard discs, prompting them to seek our assistance. We not only digitized their old VHS tapes, but also preserved them securely in our Forever Cloud, ensuring encryption protection and eternal availability. Now, they can access their cherished memories on any device they carry with them, offering unparalleled convenience and peace of mind.
Conclusion

The MP4 file format remains widely popular for creating and preserving video files due to its accessibility, with numerous free software tools available online for easy conversion and optimization. We hope our detailed analysis has provided all the information you needed about MP4 video files. However, if you require professional assistance, Forever Studios boasts over 15 years of experience in video production and photography, ready to help with any MP4 video-related queries. For preserving your video memories or restoring old and damaged photos to perfection, visit our website and explore our passionate digitization services for photo albums, home videos, and movie reels.