Exploring the Difference Between 8mm, Super 8 and 16mm Film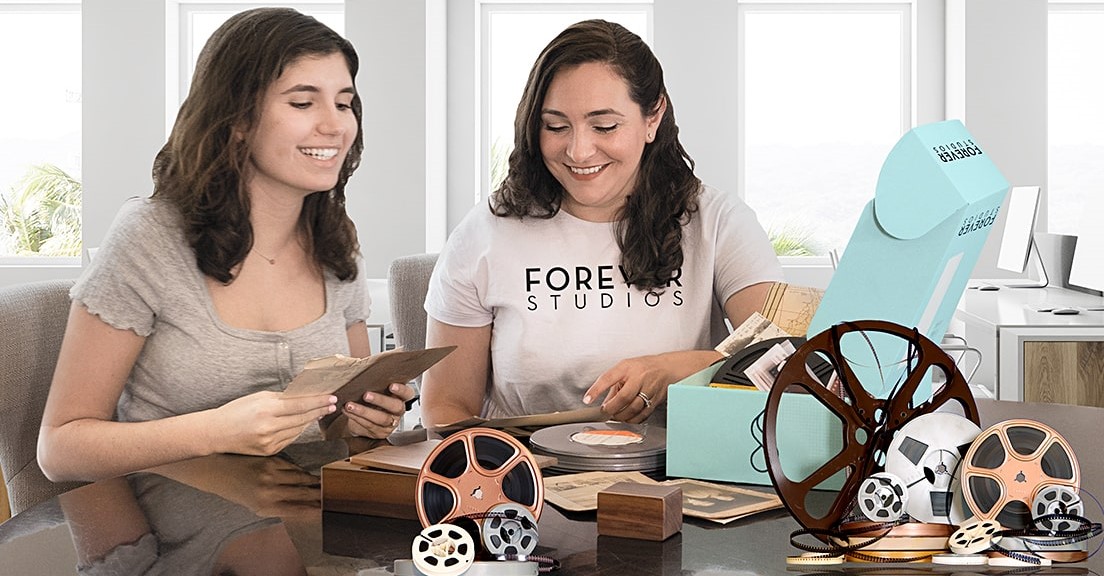 Film, a timeless medium in cinematography, has captured precious moments for generations. Despite the digital revolution, the allure of classic film formats like 8mm, Super 8, and 16mm endures, invoking nostalgia and artistic admiration among filmmakers and enthusiasts alike.
As technology replaced these vintage film formats, the yearning to relive cherished memories and safeguard sentimental treasures emerged. Thanks to professional film transfer services, classic film reels can now be converted into modern digital formats, like DVDs and digital files, with Forever Studios leading the way.
Many people face challenges when identifying their film format. In this guide, we'll delve into the distinct characteristics of 8mm, Super 8, and 16mm film, elucidating their differences and providing visual identification tips. Moreover, we'll explore the most popular methods to preserve these invaluable memories for future generations.
Standard 8mm Film
Standard 8mm film, also known as Regular 8mm or Double 8mm, gained popularity in the mid-20th century for its affordability and accessibility. Filmmakers used it to capture cherished memories from family gatherings and vacations, preserving precious moments for generations.
Despite its grainy texture and vintage charm, Standard 8mm film may not offer the high resolution of modern formats. However, the introduction of color film options allowed amateur filmmakers to infuse vibrancy into their home movies.
Did you know that 8mm (standard) film, also known as Double 8, was introduced in the 1930s as a more economical alternative to 16mm film? The film spools cleverly contained 16mm film with twice as many sprocket holes. Filming with this format involved exposing one-half of the film on the first pass through the camera, then flipping and re-inserting the spool to capture the other half. After development, the film was split, resulting in two segments of 8mm film, each frame's size being half that of a normal 16mm frame.
As Super 8 and other advanced formats emerged, the popularity of Standard 8mm film gradually declined, but its historical significance remains an enduring aspect of filmmaking history.
Super 8mm Film
Super 8mm film, introduced by Kodak in 1965, is cherished for its nostalgic charm and accessibility to amateur filmmakers. Featuring a larger frame size with smaller sprocket holes, Super 8mm offered better image quality than Standard 8mm film. Its single perforations allowed for a wider aspect ratio and more visual space.
The cartridge-based design of Super 8mm made it user-friendly, attracting a broader audience of hobbyists and home movie makers. With various film stocks available, including color and black-and-white options, filmmakers could explore different emulsions to achieve unique looks and styles.
While digital technology led to a decline in commercial use, Super 8mm film remains beloved by artists and filmmakers seeking an authentic and tangible filmmaking experience. In recent times, there has been a resurgence of interest in shooting on Super 8mm film, reflecting the enduring appeal of this classic format.
16mm Film
Introduced by Eastman Kodak in 1923, 16mm film quickly became popular in cinema for its versatility, image quality, and affordability. It found applications in documentaries, educational films, newsreels, and more.
With a larger frame size than 8mm film, 16mm offered improved resolution and creative choices with black-and-white and color stocks. Its accessibility and relative affordability compared to 35mm film made it popular among a broader range of filmmakers, allowing them to bring their stories to life on the big screen.
Even today, with advancements in image quality and digital technology, 16mm film continues to be favored in modern television and movie productions. Its vintage aesthetics attract experimental filmmakers and artists, seeking unique visuals for their projects.
Super 16mm film, in particular, stands out for its appeal, providing filmmakers with an excellent medium to achieve distinctive and artistic results.
What's the difference between 8mm, Super 8, and 16mm films?
It's highly likely that you possess either one, a combination, or all three types of consumer-grade film: 8mm (regular 8), Super 8, or 16mm film. To differentiate between these film types, there are a few key differences you can look for.
1.Film Width
An easy method to determine the type of film you have is by measuring its width with a ruler, which will either be 8mm or 16mm.
There are two 8mm film types: standard 8mm and Super 8.These two 8mm film types can look quite similar at first glance, but the key distinctions lie in their frame and sprocket hole sizes.
2.Perforations (Sprocket Holes)
Super 8 film will have sprocket holes on one side of the film, just like standard 8mm film. But the key difference is that Super 8's sprocket holes are narrower, allowing for better image quality and finer details. On the other hand, standard 8mm film has larger sprocket holes, contributing to its vintage charm.
16mm film will have sprocket holes on one or both edges of the film. If the sprocket holes are present on both sides, it indicates that the film can be used for either single or double-sided recording.
We recently had a client who was unsure about their Super 8 film, and we helped them recognize the subtle differences in the sprocket holes. We showed the client the sprocket holes on their film. We explained that in Super 8 film, the sprocket holes are narrower and more compact compared to standard 8mm film. After the identification process, we proceeded with converting their Super 8 film into a digital format, ensuring that they could easily share and relive their memories with family and friends.
3.Frame Size (picture-taking area)
While both standard 8mm and Super 8 films share a width of 8mm, Super 8 boasts a larger frame size (around 5.8mm x 4.01mm) than standard 8mm (roughly 4.5mm x 3.3mm), resulting in improved image quality.
In comparison, 16mm film has the largest frame size, measuring approximately 10.26mm x 7.49mm.
4.Sound Tracks
All three film formats, 16mm, 8mm, and Super 8, could record sound, but it was less common in standard 8mm.
If you have standard 8mm film with sound, you'll notice a thin rust-colored strip on one edge. For Super 8 with sound, the rust-colored strip will be on one or both edges.
As for 16mm film, it can have two types of sound tracks: a brown magnetic stripe on one edge or an optical soundtrack, which shows waveforms when held against light.
5.Film Cartridge/Spool
To distinguish between 8mm and 16mm film, you can look at the spools or cartridges.
16mm film is usually on larger, heavy-duty spools or in larger cartridges, while 8mm film, both standard 8 and Super 8, comes in smaller, user-friendly cartridges.


Identifying Film Types: Visual Comparison
*8mm film was originally silent, but later options for sound recording became available through separate devices.
**Standard 8mm film is no longer manufactured, but some vintage film stocks may still be available.
Converting your Film to Digital Format
Once you've discovered the type of film you have, whether it's 8mm, Super 8, or 16mm, you might be eager to preserve your precious memories for easy access and sharing with loved ones. The most popular option is converting your film into digital formats.
Forever Studios boasts over 15 years of experience in professional digitization services for 8mm, Super 8mm, and 16mm film, ready to help you preserve and revitalize your cherished memories. Digitizing your films protects them from wear and tear, ensuring their long-term security.
If you require further information, please don't hesitate to contact us. We are eager to assist with any additional inquiries you may have.