How to Convert Negatives to Digital? 8 Easy Ways
Today, in the age of digital photography, negatives might seem like a throwback to a lost era. However, avid photographers and hobbyists frequently use them to produce high-quality prints of their photos.
Unfortunately, not everyone is familiar with photo scanning and questions remain about why negatives have such an unusual name.
In this post, we'll explore the reasons behind the term "negative", talk about the ways to digitize your negatives and what to do with film after scanning.
Why are Negatives Called Negatives?
Firstly, it's essential to understand that the word "negative" refers to a type of film that captures a photographic image of a scene in reverse. This film is coated on both sides with an emulsion that contains light-sensitive silver salts.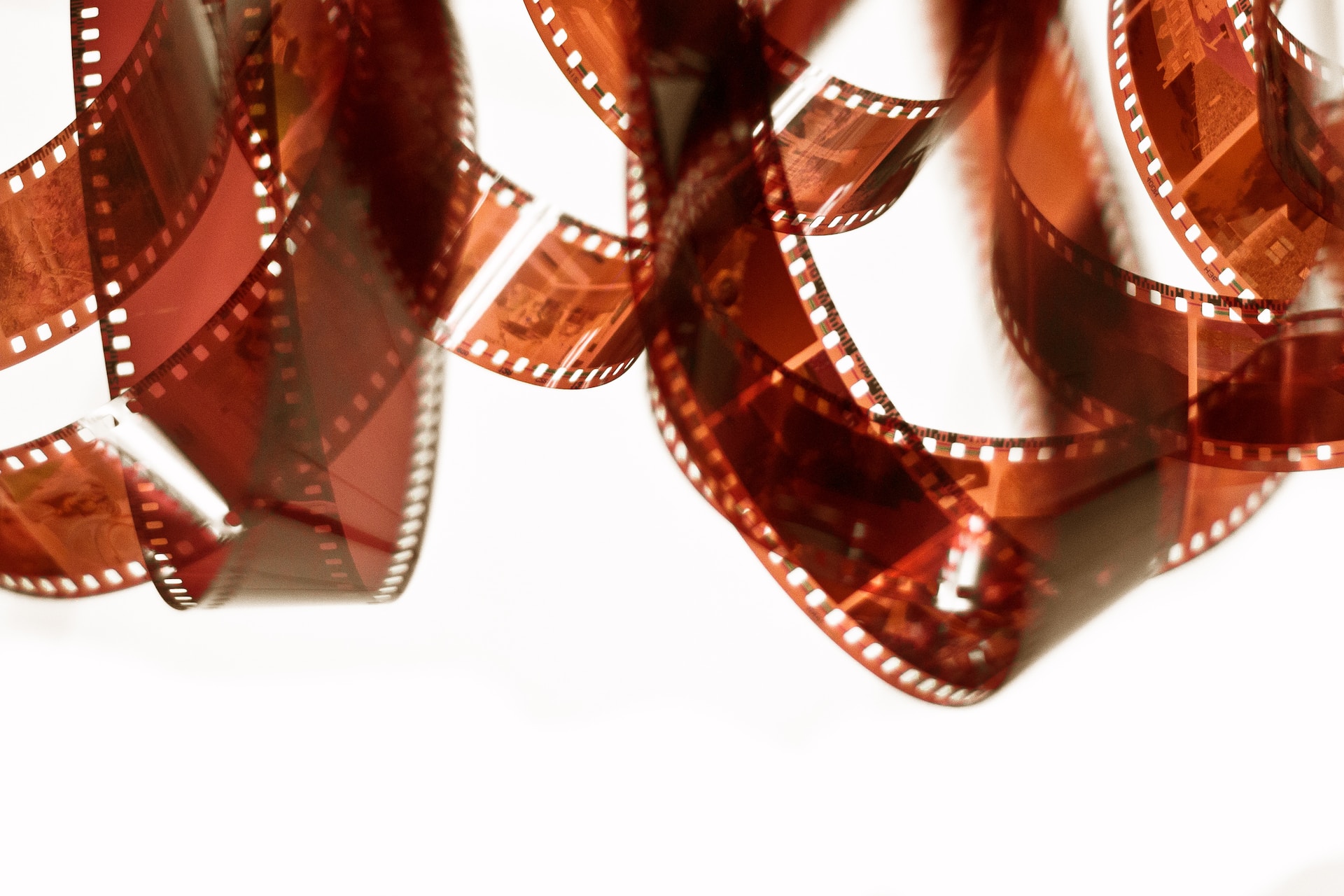 The camera focuses the light reflected off an object through a lens onto the emulsion, and the resulting negative inversion is what creates the printed image. Because the negative looks like a reverse image of the subject, it's often called a "negative" rather than a "positive."
How to Scan Negatives? Negative Film to Photo
Now that you know why it's called a negative, let's talk about how to digitize them in different ways. As technology continues to evolve, the digitalization of traditional photography is becoming an increasingly popular practice.
Dark Room
When it comes to processing negatives in a dark room environment, precision and attention to detail are key.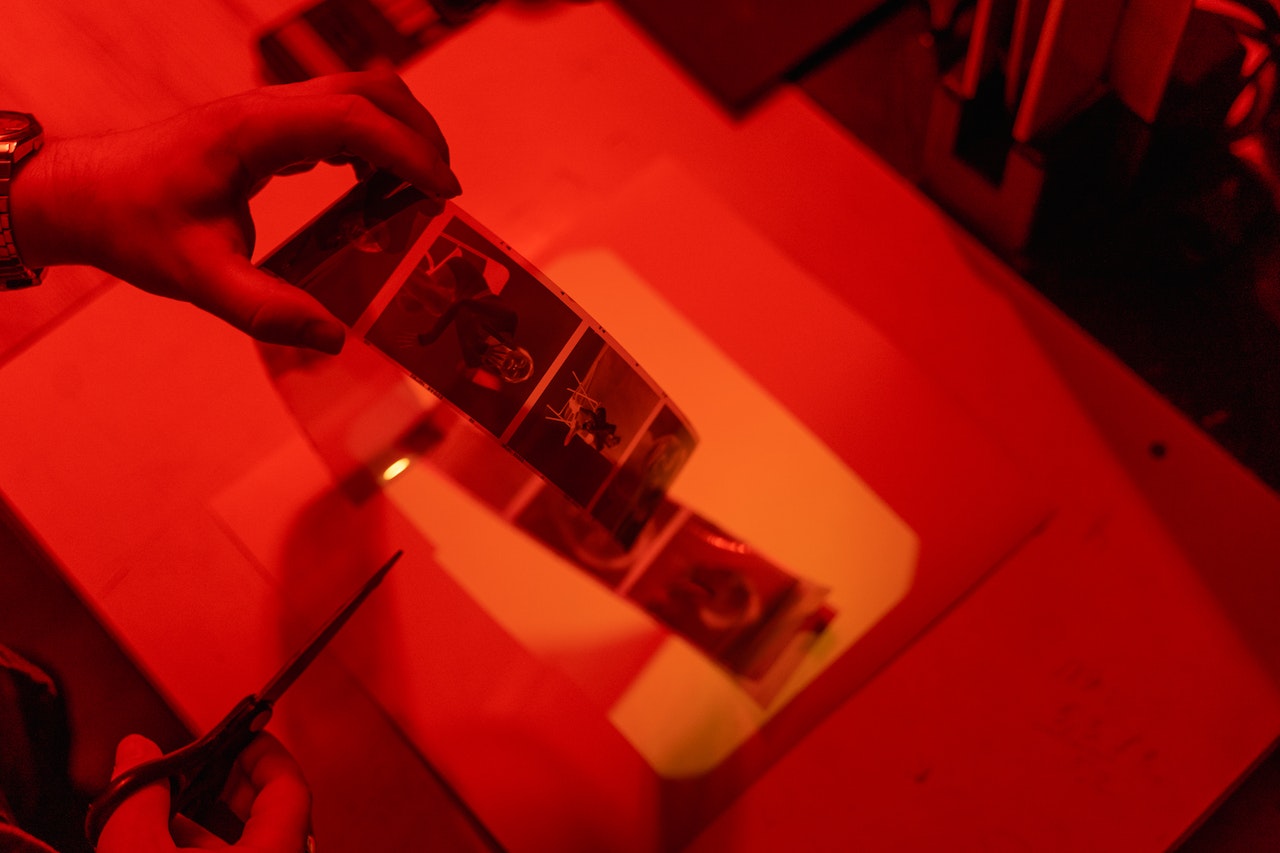 The process involves carefully exposing the negative to light through an enlarger, developing the image in a series of chemical baths, and carefully drying the final product. The use of specific chemicals and timing is crucial to producing a high-quality image with proper contrast and clarity.
While the process may seem daunting to beginners, with practice and patience, one can achieve stunning results.
There is a sense of satisfaction that comes with creating something tangible with your own hands, and darkroom photography continues to provide a unique and rewarding experience for those who enjoy the art of film photography. However, in the modern world not every person has access to the dark room, so it's always better to ask professionals for help.
Digital Scanner
Negatives require extra care due to their fragile and delicate nature. Start by preparing a working space that is clean, dry, and free of dust.
You'll need a digital scanner that can handle negatives, a computer with photo editing software, a microfiber cloth, and plastic sheets or containers. Ensure that you handle the negatives with clean and dry hands.
To scan negatives, you'll need to use a scanner with a film adapter. Once you've loaded the negatives in the scanning adapter, ensure that they are clean and free of dust. After scanning, be sure to check and edit the image's sharpness, exposure, and color balance using photo editing software.
Photography Studio
This is a complicated process, so if you don't feel like scanning photos yourself or you don't have the necessary equipment, we can help you to scan your photos at Forever Studios.
We scan photos from:
loose photos
photo albums
negatives
35mm film
The process of scanning photos at Forever Studios is easy:
Pack the files that you need to scan.
Send us a package with photos to digitize.
We digitize your files and send you photos online. You can preview and share your photos using Forever Cloud.
After that, we'll send you your photos on the disc, USB, or you can download them from Forever Cloud during the next 30 days.
Use the Scanning Kit from Forever Studios
With our 3-way shipping kit, you can quickly and safely send us your photos, slides or negatives to scan.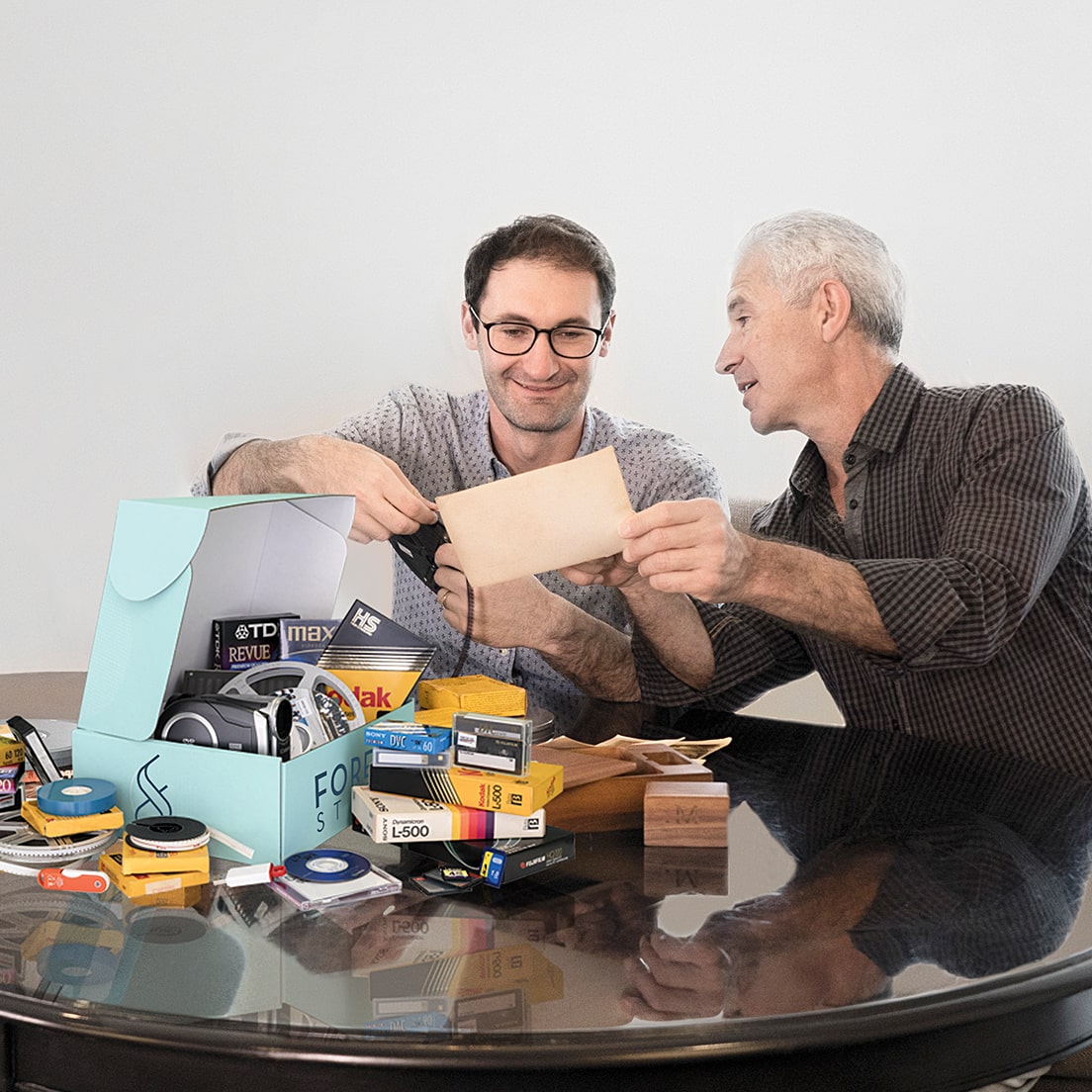 We take care of the entire process for you, right from providing a secure shipping box at your doorstep with all necessary items for shipment, to priority shipping and tracking information.
Your photos will be shipped in a crush-proof box with pre-filled labels provided for easy recognition and delivery. All these features make this the safest and fastest way to ship your precious memories to us for scanning!
Use DSLR
One way to digitize negatives is by using a digital photo camera. This method involves placing the negative on a lightbox and taking a photograph of it using a digital camera.
It is crucial to ensure that the camera is positioned correctly and that the negative is in focus to achieve the best results. Additionally, adjusting the camera settings, such as exposure and ISO, can help to capture the details and enhance the image quality.
Overall, digitizing negatives with a digital photo camera provides a simple and efficient way to preserve images for future generations.
Flatbed Scanner
When it comes to scanning negatives using a flatbed scanner, the process can seem daunting at first. However, with a few simple steps, you can easily transform those negatives into beautiful digital images.
Begin by ensuring that your scanner is properly calibrated and that the negatives are clean and free of dust or debris.
Next, place the negative on the glass bed of the scanner and adjust your settings to accommodate for the negative's size and resolution.
Finally, use a photo editing software to adjust the brightness, contrast, and color balance of the scanned image.
With a little patience and practice, you'll soon be able to expertly scan all of your old film negatives with ease.
Smartphone
Scanning negatives using a smartphone may seem daunting at first, but with the right tools and techniques, it can be a simple and efficient process. To begin, start by installing a scanning app designed specifically for negatives.
Once installed, place the negative on a flat surface with a white background and position the smartphone camera over it, ensuring that the lens is parallel to the negative.
Adjust the exposure settings and focus, and then take the photo. After taking the photo, import it into a photo editing software, invert the colors, and then adjust them to your liking. With these steps, you can produce high-quality scans of your negatives right from your smartphone, however, it's almost impossible to get accurate results without photo editing experience.
What If My Negatives are Damaged?
Have you found your photo negatives damaged? Don't worry! At Forever Studios, we can restore photos even from the most damaged negatives.
Our experienced photograph restoration experts use cutting-edge technology to bring back your most precious memories in vivid detail.
Get in touch today and let us help you restore your treasured memories to their original condition.
How Do We Restore Your Photo?
At Forever Studios, we have the best artists working on your negatives to deliver high-quality results.
Our experienced professionals use advanced techniques and the latest technology to ensure quality photo restoration of your irreplaceable photos and negatives.
We guarantee that you will receive superior quality images with great clarity and detail - all with a quick turnaround time (usually it takes from 1 to 3 days). Let us help you bring life back to your most cherished memories.
Are Negatives Worth Keeping After Scanning?
Storing negatives is the next crucial step. Keep them away from humidity, heat, and direct sunlight, as it can damage the film. You can choose to store them in plastic sheets or containers that are explicitly designed for negatives.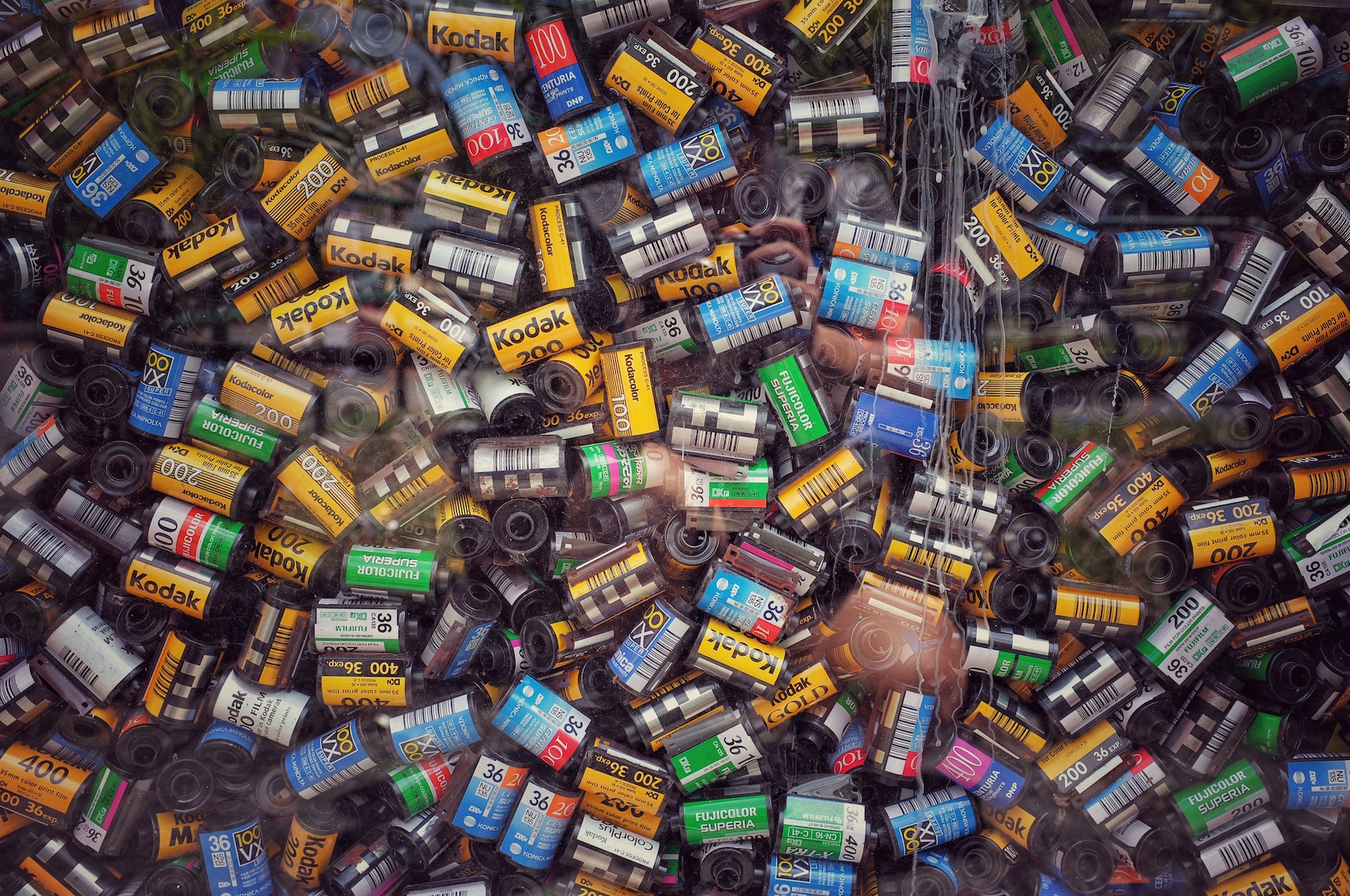 Label each container with the date and the corresponding negative number for easy identification. You can also make digital backups of your scanned negatives, which you should store in a separate location.
If you don't have the space to store negatives, it's better to digitize them and recycle the negatives. Digital photos offer an easy way to preserve your memories without taking up physical space. Scanning is a fairly straightforward process that can be done quickly with the right equipment at Forever Studios.
Recycle Your Negatives the Right Way
Plus, once you've scanned your negatives, you can share them online or get prints of them easily. Recycling old film negatives will help keep our environment clean and reduce clutter in our homes.
1. Donate Your Negatives: You can donate your old negatives to a local library, historical society, university, or other academic institution. Not only will these organizations be able to scan the film and preserve its important memories, but they can also use the negatives for research or educational purposes.
2. Recycle at a Recycling Center: Negatives are made of plastic and can often be recycled. However, before you do this, make sure that the negatives have been scanned and saved digitally so that their memories won't be lost.
Conclusion
In conclusion, negatives are called negatives because the image is reversed from how it appears in real life. Scanning and storing negatives properly are vital steps to preserve your photographic memories. Follow the tips outlined above to ensure that your negatives remain in the best possible condition while making the most out of your analog photography.