Digitize your photos from picture albums with ease.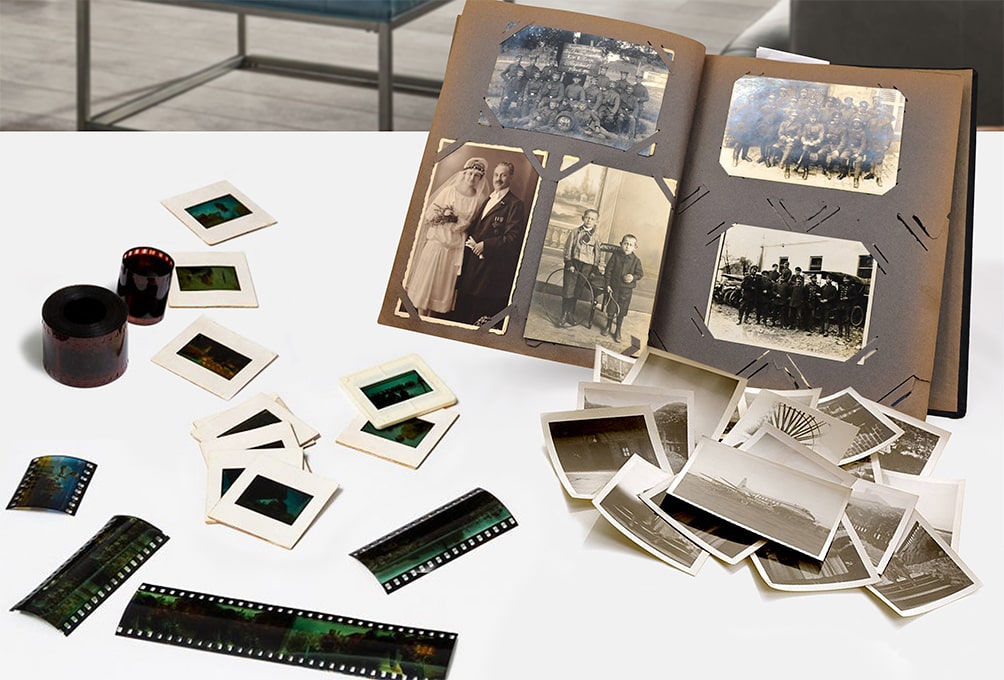 Scan your photos in photo boxes, photo albums and carousels with ease with the help of Forever Studios.
It's always a great feeling flipping through your old photo albums containing your fondest memories. These albums were created to pass down through generations and enjoy memories with loved ones. Nowadays, how often do you get the chance to bring out that old album? Times have changed and they seem to come out less and less. It would be nice to have those photos more shareable, searchable and convenient for the whole family. This is where photo scanning comes in.
Picture scanning services allow you to have a forever copy. Digitizing your photos has numerous benefits. If it's time to preserve your photos, you'll soon see all the advantages that come along with it.
Bye Bye To Any Damage
Photos fade over time. Mold, sun, and chemicals can cause your photographs to deteriorate. Fear of rips, tears, and spills are all put in the past when you have a copy on USB, or a cloud backup. Even with worst case scenarios such as house floods or fires, you want those memories safe. As long as you have your photos digitized, you can always make new prints.
Backups & Organization
Backups of your photos are great to have. No need to worry so much if something was to happen with the originals. You can also organize, sort and group together specific times to make viewing simple. Like a virtual photo album! Being able to find that one specific photo now seems so easy.
Affordable Services
Nervous about having hundreds or even thousands of photos and slides to scan? Finding a good photo scanning service can be extremely affordable. It's nice to use companies who do everything in house. That way, your memories never leave one space. Enhanced services are now provided which includes minor dust and scratch removal along with photo color enhancement.
More Accessible To Family
You are now able to share and send pictures with all your family members at any time. With just a simple click, your photos could be sent to anyone you'd like. Loved ones can now have their own personal copies saved or made into prints.
Overall, there are may benefits to scanning your photos. Be able to enjoy your photos wherever you go. You can even turn your scans into personalized gifts! Trust a photo scanning company to provide you with superior quality scans for future generations to see.
For more information, visit us at https://foreverstudios.com/photo-scanning-service/ to explore all our options on photo scanning. We transfer most photo items including photo prints, 35mm slides, negatives, and transparencies.