How to Colorize and Restore Vintage Family Images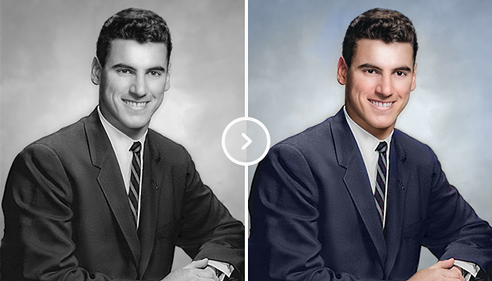 The Magic of Bringing Old Photos Back to Life
Old black and white or faded photos can transport us back in time and connect us to our ancestors and history in a powerful way. But seeing those treasured family photos tattered, faded, or in black and white can be disappointing. Fortunately, modern technology now allows us to breathe new life into vintage photos through colorization and restoration. In this post, we'll explore the magic of revitalizing old photos and share tips on how to restore your own historical images.
The Nostalgia of Old Photos
For many of us, looking through old family albums brings back fond memories and helps us feel connected to relatives from past generations. "I get goosebumps every time I open the old photo albums my grandmother left me," says Amanda, 32. "It's like visiting with ghosts of the past. The photos really capture moments in time."
Jason, 48, inherited several old photos from the 1930s and 40s that have been in his family for generations. "It's incredible to see these moments frozen in time," he says. "The fashions, the scenery, the expressions on people's faces. It's like stepping into a time machine."
But Jason notes that many of the photos are faded, torn or damaged. "The ones in the worst shape are the most interesting to me, because it's sad to lose that history. I wish I could bring them back to their original brilliance."
The Limitations of Black and White
While old black and white photos have an undeniable vintage appeal, they lack the color that makes images come to life. "Looking at old family photos that are black and white just makes me feel melancholy," says Stacy, 29. "I want to see the color of my ancestors' eyes, their skin tones, the hues of the clothing they wore. Black and white makes everything look flat."
Colorization expert Lindsey Diaz explains, "Black and white photos are evocative, but color adds emotion and realism. The addition of color helps modern viewers better relate to historical photos. Colorization contextualizes black and white images, transporting the viewer for a more immersive, intimate experience."
Breathing New Life Into Old Photos
Thanks to advancing technology, it's now possible to breathe new life into vintage photos through professional colorization and restoration services. Master colorist Tom Graham specializes in meticulously revitalizing historical photos.
For colorization, Tom uses a combination of technology and artistic technique. "Software does about 40% of the work," he explains. "But you need a human colorist for the nuance of choosing colors that reflect lighting, textures and more. For the trickier areas, like human skin and clothing, I hand-pick colors that I feel match the time period and subject."
The results can be astonishing, allowing us to see our ancestors and historical figures in an entirely new light. "I recently colorized a photo of my great-grandmother as a young woman in the 1920s," says Marissa, 33. "Seeing the rosy tones in her cheeks, the color of her eyes, and the vivid hues in her dress really made me see her as a living, breathing person for the first time. It was like meeting her."
Restoring Damaged Photos
Photo Colorization isn't the only modern photo service that can revive vintage images. Professional photo restorers use digital techniques to repair damaged, faded and discolored historical photos.
Helpful restoration techniques include:
- Scanning the photo to digitize it for digital repair
- Removing creases, tears, stains and scratches
- Tweaking brightness, contrast and color balance
- Reducing graininess for a clearer image
- Erasing writing, tape and other elements obscuring the photo
- Cropping away ragged edges or damaged sections
"Old photos accumulate all kinds of wear and tear over the decades," says restoration expert Richard Edmonds. "Spills, fading, rips - you name it. Modern digital restoration lets me take a damaged photo back in time. When I'm done, it's often hard to tell a restored photo from a brand new image."
Preserving Family History
Breathing new life into your own vintage family photos can be incredibly rewarding. "I dug up some old pictures of my grandparents when they were first dating in the 1940s," says Olivia, 28. "I had a professional colorize and restore them as a gift for my grandmother's 90th birthday. When she saw them, she lit up with the biggest smile. It was like she was transported back to that magical time when they first fell in love."
Whether you want to reconnect with your ancestors, preserve precious moments for future generations, or simply see historical photos in a new light, colorization and old photo restoration services help turn back the clock. Ready to revive your vintage photos? Talk to a specialist about your options. Just be prepared to travel through time!