Old Photo Restoration Service For Family Historians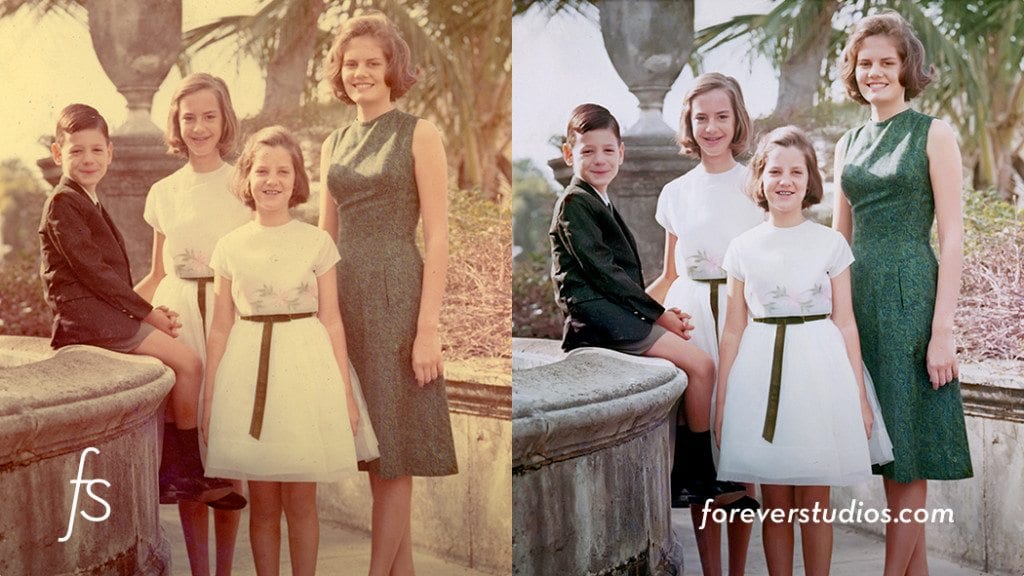 Restore your old photos with the photoshop editing experts you can trust since 2007, Forever Studios.
Restoration of old photos is one of the few remaining areas of photography where a professional is still required in order to guarantee a quality picture repair. If you're the historian for your family, you know the storytelling value of an old photograph.
Photographs printed with your Polaroid OneStep in the 1980s or your local Fotomat in the 1970s were not intended to last 45+ years. This is why our Boca Raton studio services a steady stream of faded and discolored prints for families realizing they are slowly losing their precious memories simply by leaving them in a box. Those old, square lustre drugstore prints with the rounded corners were not made on archival paper (which is why most develop a yellow or pinkish tone over time).
Our restorers also repair cracked and torn pictures that have been damaged by being taped into albums, improper storage and other well-intentioned uses which accelerate the damage. Photographs from the 1940s and earlier were usually printed by a professional photographer so their archival quality is usually better than what was printed in the next few decades. Still, we fix many of these images. Click here to see examples of our photo restoration work:
https://foreverstudios.com/old-photo-restoration/
Being located in South Florida, our digital artists have fixed countless sun damaged prints that were framed and displayed next to windows and therefore not protected from ultraviolet light. In addition, mold and other moisture-related damage is highly common in Florida. This type of damage is not something you can repair yourself so if you are looking for something to last for the next 45+ years, it is best to trust a professional photo restoration service.
Forever Studios was founded on the idea that families value their memories more than any other possession. So, for just $35, you can upload any image at https://foreverstudios.com/old-photo-restoration/ and our technicians will restore it in just 48 hours. You can then decide if you would like to make a book, prints or any other type of wall art.
If you have any questions, please call the experts at 800-916-6076.