What can you create from your old photos?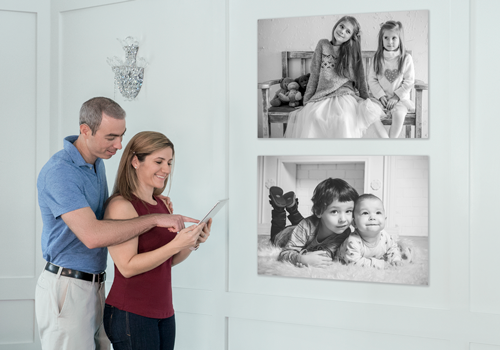 Let's turn that old photo into something new and help you take old, damaged photos and bring them back to life! Coloring, cracks, rips, tears, water, mold, fire damage and fading can all be digitally repaired in an old photo. But what happens next?
Digital Archive
Keep it simple. Experienced restoration artists will digitally restore your photo by hand and you will be sent a download link of your newly restored photo. View your photo on a computer, phone or tablet and easily send to your loved ones. Having a digital archive is a great way to preserve a precious memory.
Photo Prints
Take the next step. Photo prints make such a special gift. There is something about having a physical photo in your hands, especially an older one that now looks brand new! Print your photos with high definition clarity on thick, archival quality photo paper with a wide variety of sizes to choose from.
Custom Frame
Get personal. Who doesn't love something personalized? It gives the perfect extra touch. A custom frame with a special engravment makes the ultimate gift for anyone. It's an ideal, classic tabletop display frame that you or your loved ones will cherish forever. Check out our handcrafted wall art collection here: https://foreverstudios.com/create-photo-art/
There are so many options when it comes to your old photo. If you are thinking of restoring your old photo you can simply upload it directly to https://foreverstudios.com/old-photo-restoration/. If you are unable to scan your photo, no problem! You can mail the original https://foreverstudios.com/old-photo-restoration/. All original photographs never leave the Forever Studios headquarters. Your memories are in the best hands with our team. All originals will be mailed back with any prints or photo art you may purchase.